Bio-Psychosocial Evaluations
Screenings & Bio-Psychosocial Evaluations
The clinically trained professionals at Universal Therapeutic Services, LLC typically conduct a bio-psychosocial evaluation at the beginning of the therapy program. Therapists are assessing for factors that can be contributing to an individual's problems such as biological, psychological and social factors, determining where an individual is on all levels. Because problems can have an influence on each other in different ways, the bio-psychosocial evaluation is utilized. It's not always enough to simply look at just the individual, their environment and other factors contribute to the entirety of the picture and need to be considered too. The trained professionals at Universal Therapeutic Services, LLC do understand the big picture and know how to help individuals reach their goals. Follow up assessments after an initial bio-psychosocial evaluation is useful when trying to determine if the initial targeted problems have been appropriately explored or if new information creates other avenues of treatment.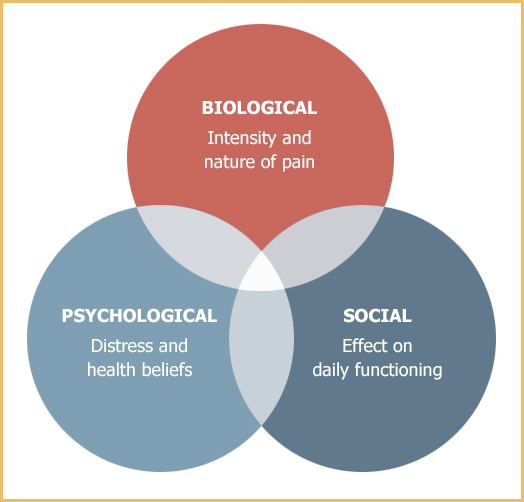 Utilizing the Biopsychosocial Evaluation
BioPsychoSocial evaluations reinforce the importance of a systemic view of the individual and an integration of biological and psychological factors on human development and functioning.
Bio-Psycho-Social
The bio/biological element entails inquiries about genetic issues, physical characteristics, developmental milestones, medical conditions.
The psycho/psychological aspect entails exploration of an individual's mental status, behaviors, feelings, emotions, thoughts, history of abuse or trauma.
The social element of the biopsychosocial evaluation deals with subject matter about religion, spirituality, economic status, and relationships.
Breaking Through The Mental Illness Stigma
In order to get an accurate understanding of an individual's mental health, factors affecting them both positively and negatively must be taken into account. When treating a mentally ill individual, having tools like the biopsychosocial evaluations are invaluable due to the perspective it can give the clinical workers into and connect every aspect of the client's life to the root of their challenges. Opening this wide network of information helps those with mental illness gain a new sense of self-awareness. Much like a puzzle, those suffering from a mental illness can now understand their well-being as a whole entity with the importance of the several parts functioning together in harmony. Anyone can suffer from a mental illness; we all have factors in our lives that influence us, biological, psychological and social. The wonderful thing about the biopsychosocial evaluations is that it challenges the stigma associated with mental illness by enabling people to realize, mental illness does not discriminate and can strike anyone.
For more information regarding any services offered by Universal Therapeutic Services, LLC or if you have an inquiry about any aspect of our programs, we welcome you to contact us at your earliest convenience. A friendly and knowledgeable staff member is standing by six days a week at (864) 540-1209, Mon – Fri 8am – 5pm and Sat 10am – 2pm. We're here to help you regain control of your life and live with a renewed purpose. Contact us today!

   103 Lydia Street, Greenville, SC 29605


  P.O. Box 8303, Greenville, SC 29607


  (864) 405-3044


  Info@UniversalTherapeuticServices.com
© 2022 UNIVERSAL THERAPEUTIC SERVICES, LLC – MENTAL & BEHAVIORAL HEALTH CARE